CANDIDATE STORY
When Practical Skills Matter: How a Tunisian Graduate Landed a Flutter Job in Sweden
Anton Fenske / Twitter · LinkedIn
This story is about Maher - a guy from Tunisia who received his Bachelor's Degree in Computer Science in June 2021.
Maher had aspired to relocate to Sweden to work as a Flutter developer after he graduated.
"In Sweden, there are a lot of cool companies like Spotify, Truecaller, Kry, etc. It provides many opportunities for career growth."
However, he had to face a harsh reality that many companies wanted to see several years of formal professional experience on his CV.
Fast-forward to the present day and a few hundred applications later, Maher is now a Flutter engineer at Hackberry, i.e., a Swedish consulting company specializing in mobile development.
Let's dive into Maher's story and see how he pulled it off.
Who's Maher
Maher's first got into programming at university.
"I repaired computers when I was young. But it wasn't until I got in university when I started learning algorithms, data structures, and then eventually mobile development."
In October 2018, he started learning about React-native until a friend told him to look at Flutter. He dove into the platform and realized its' potential and the community power that was growing by the day.
He kept learning about the platform and eventually co-founded "Flutter Tunisia" (at the time of writing, "Flutter Tunisia" is listed on the official Flutter Meetup Network map).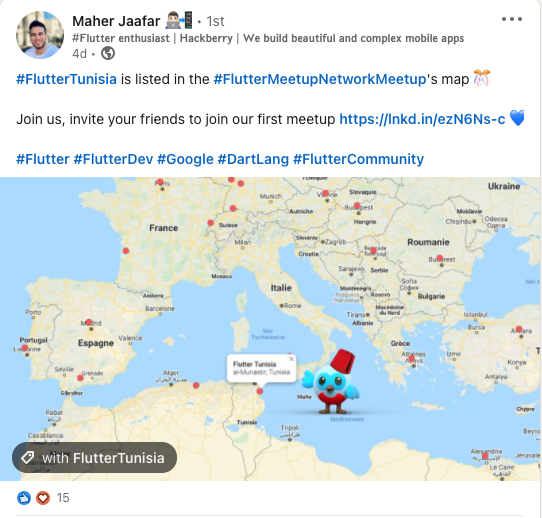 Source.
Post by Maher Jaafar on LinkedIn.
The graduation date was coming, and it was finally the time for Maher to realize his dream to move to Sweden as a Flutter developer. So the application process began.
The Application Process
TL;DR It was a tough one. Maher sent over 500 applications and received over 100 rejections.
And the most common rejection reason was (surprise) not enough years of formal professional experience. Although Maher worked as a developer while he was a student, it was still not enough.
"Since I was a working student, they didn't give importance to the professional experience I had."
Maher is not the only one who has faced this problem. It has become so common that the Internet is now full of memes on the topic.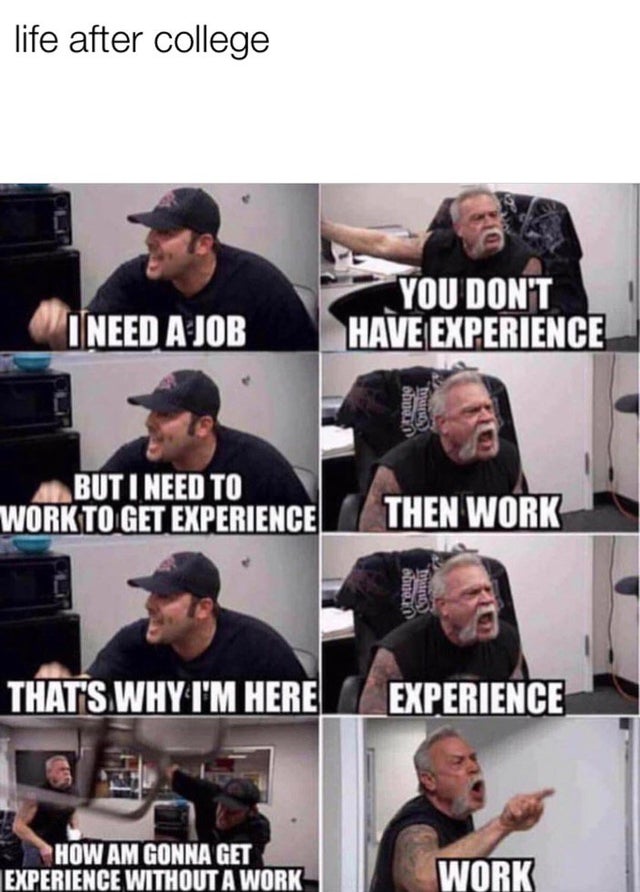 Source.
Post by u/TrevorX5J9 on Reddit.
Practical Interviewing at Hackberry
I didn't know Maher until one day he sent me the message below.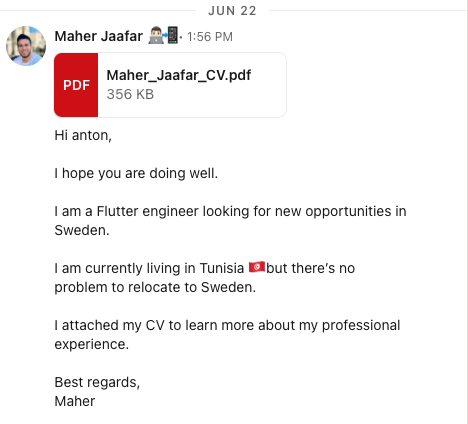 Source.
Maher Jaafar
's LinkedIn message to
Anton Fenske.
I checked out his CV, and given he just graduated, my first thought was: "Oh boy, it's going to be tough for the guy to land a job."
On the other hand, the type of work he'd been doing and his accomplishments in the Flutter field hinted that he could be a qualified developer.
By coincidence, I knew a team at Hackberry who have been Alva Coding Tests users since the early days.
Hackberry's primary objective when hiring developers is evaluating practical engineering skills. So I felt like Maher might have had a good chance with them.
With the
Alva Coding Tests' real-world coding tests
, they'd assess the following criteria:
Candidate's problem-solving skills;
Understanding of the target technology;
The nuances of the target profile;
How well they can motivate tech decisions.
So I sent Maher's details over to Thomas, Hackberry's CEO. And a few days later, I saw Maher's coding test submission for Hackberry.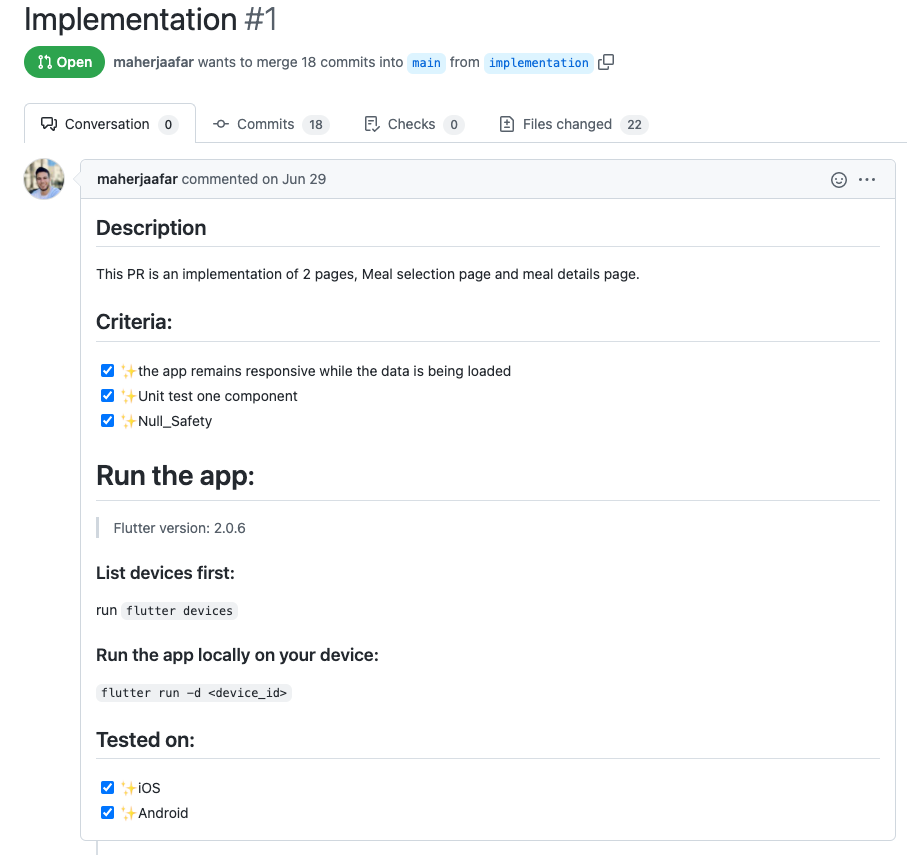 Source. Maher Jaafar's coding test submission for
Hackberry.
Then about a month later, I saw the following update on Maher's LinkedIn feed.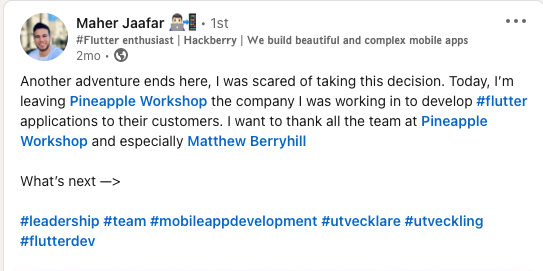 Source.
Post by Maher Jaafar on LinkedIn.
So I couldn't help but ask: "What's next?". And how pleasing it was to see Maher's reply.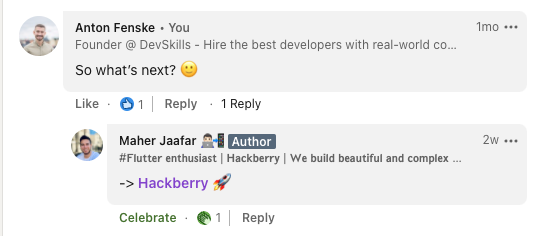 Source.
Comment by Maher Jaafar on LinkedIn.
That was the moment when I once again saw sensible hiring beating CV screening that keeps rejecting so many viable candidates out there.
In Closing
There has already been enough frustration shared online on the topic of how poor technical interviews can get.
However, it doesn't have to be that way. Any team can be like Hackberry that made an effort and implemented a hiring process that discovers candidates who are a blessing in disguise.
Are you next?
Never miss out on great talent again
"We saved hundreds of hours with the Alva Coding Tests' out-of-the-box technical interview solution that integrated seamlessly with our existing setup." — Andreas Gabrielsson, Head of Engineering at Alva Labs.